PRISMS 10th International SMS Conference
Honoring the Past, Treasuring the Present, Shaping the Future
Pittsburgh Marriott City Center Hotel
Pittsburgh, PA
July 19-21, 2018
Registration for the PRISMS 10th International SMS Conference is now closed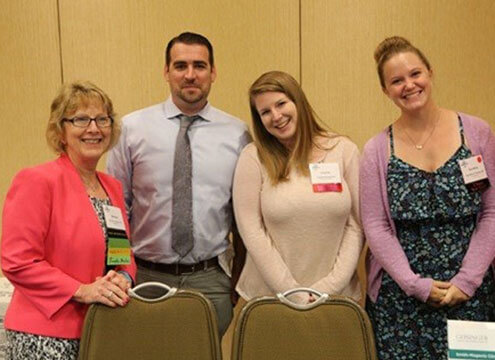 Join us in Pittsburgh, PA, this Summer 2018!
---
Update –  PRISMS 10th International SMS Conference has an unprecedented 350 people registered to attend!  Due to our high volume of registrations, we are unable to accept new registrants at this time. We are also unable to accept or accommodate onsite registrations this year. Please contact info@prisms.org with questions.
---
Please join us at the Pittsburgh Marriott City Center hotel for the PRISMS 10th International SMS Conference. This multi-day event has been designed to educate and share information about Smith-Magenis Syndrome, while providing opportunities for engagement and community amongst SMS families and professionals. Invited guests include individuals and families affected by SMS as well as the professional community with an interest in SMS.
The Pittsburgh Marriott City Center hotel is located at 112 Washington Place, Pittsburgh, PA 15219.
Workshops will begin on Thursday, July 19th at noon, (approximate start time and subject to change)
First Steps session, (for first or second-time attendees), will begin at 1:15pm on Thursday, July 19th
Welcome Reception – 5:00pm, Thursday, July 19th
All day sessions, 8:00am – 5:00pm, on Friday and Saturday, July 20th-21st
Conference concludes on Saturday, July 21st at 5:00pm
Book your hotel room, now online – to make reservations online go to the Pittsburgh Marriott City Center hotel website. Alternatively, you can call the hotel directly at the following phone numbers: (toll free) 800-228-9290, (local) 412-471-4000. When calling the hotel, please mention the PRISMS Conference to ensure you receive the correct room rate ($139.00 per night plus applicable taxes).
The goals of the conference include:
To understand the medical, social, developmental and behavioral aspects of SMS.
To gain knowledge about the most recent advances in diagnosis, management and potential benefits to persons with SMS.
To develop intervention strategies, treatment and management plans for persons with SMS.
To recognize the psychosocial aspects impacting SMS families and the role of PRISMS as a network.
To learn about SMS, past, present and future. And, most importantly, to share information and tips with other families.
Become a Sponsor or Exhibitor
Your support of this conference is a commitment to patient education, family support and rare disease awareness. It is through sponsors, like you, that PRISMS can continue our mission to serving the SMS community.
Who is PRISMS?
PRISMS an acronym for Parents and Researchers Interested in Smith-Magenis Syndrome, is dedicated to providing information and support to families of persons with Smith-Magenis Syndrome (SMS), sponsoring research and fostering partnerships with professionals to increase awareness and understanding of SMS. As a 501(c)3 non-profit organization, PRISMS files an IRS form 990 every year. Our Federal Tax Identification Number is 54-1652029.
What Is PRISMS International Conference?
PRISMS International Conference is the largest conference specifically focused on Smith-Magenis Syndrome in the world. More than 300 people, representing 35 states and eight countries attended in 2016. This educational and family support multi-day event is a critical service for our rare SMS community. With more than 40 sessions on topics ranging from Sibling Support and Behavior Strategies to Research Updates from leading researchers in SMS, Medical Management, Genetics 101 and more, there is no shortage of information for attendees to access.
WE BELIEVE THE CONFERENCE SHOULD BE ACCESSIBLE...


Along with subsidizing more than 300 registration costs, PRISMS provides scholarship opportunities to cover additional conference costs for families, educators, and researchers – ranging from registration, to hotel accommodations, to travel.
We believe the conference should be accessible to all, and we are determined to keep costs of attendance for the SMS community low. PRISMS accomplishes this by providing scholarship opportunities to cover conference costs for families and professionals and heavily subsidizing the true cost to all of our attendees. The true cost per person at our international conference is approximately %760. PRISMS subsidizes roughly $500 per registrant, leaving attendees to cover just 30% of each individual cost to attend.
And we are committed to organizing and hosting a high-quality conference full of content that is relevant and empowering for all attendees.
Together through education, awareness, and research, we are all strong.
2016 PRISMS Conference By the Numbers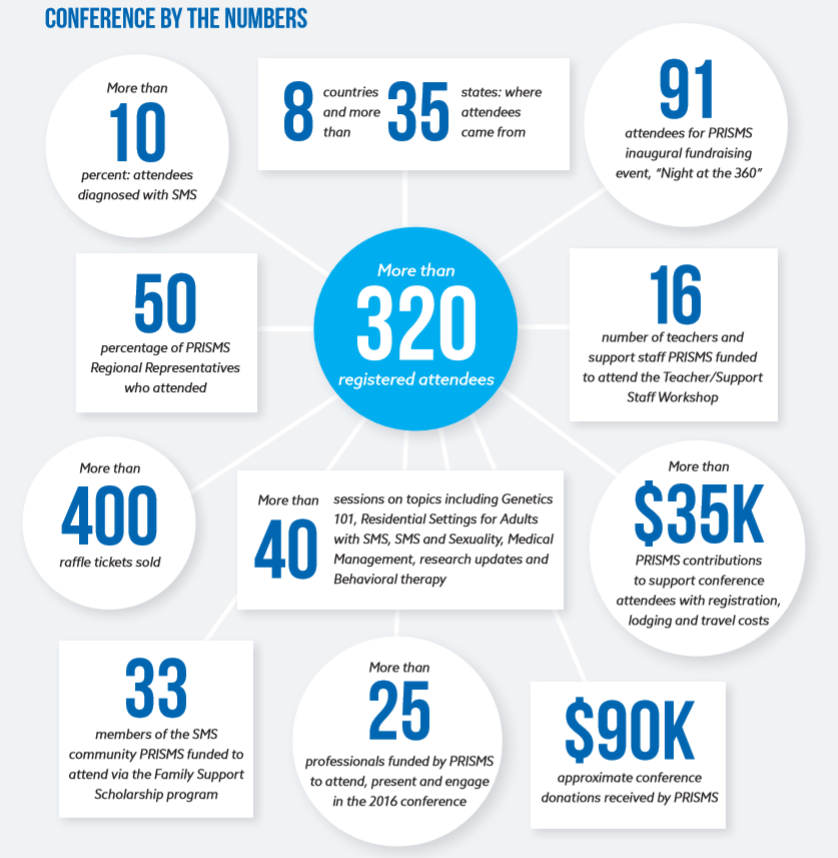 Help support our efforts to ensure that more members of the SMS community have the opportunity to engage and learn at the 10th International SMS Conference by getting involved in an opportunity below.