PRISMS 10th International SMS Conference
Honoring the Past, Treasuring the Present, Shaping the Future
Nearly 400 members of the Smith-Magenis Syndrome (SMS) community from around the world joined together in Pittsburgh, PA for PRISMS 10th International SMS Conference, July 19-21, 2018. The multi-day educational and community event for parents and professionals felt like a family reunion where old friendships were revitalized and new connections formed.
PRISMS is grateful to all of the speakers, poster presenters, grant recipients, exhibitors, sponsors, volunteers, and other attendees  who helped to make this another outstanding and successful SMS conference! Those in attendance this year were part of the largest gathering of individuals interested in and affected by Smith-Magenis Syndrome —wow! You could feel the energy around just how powerful these few days were.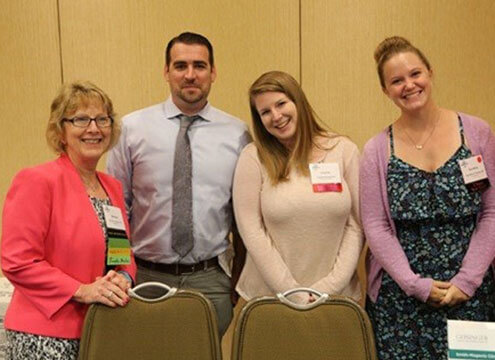 This year was not only PRISMS 10th International SMS Conference, but also a celebration of our 25 years of leadership and a future of hope for the global SMS community.
---
We are honored to share highlights of our 25 years through our 25th Anniversary video. Take a look! https://www.youtube.com/watch?v=L4AJwqbv7GA
The conference opened with an #IAm Campaign Celebration highlighting the many talents, passions, and characteristics across our vibrant community! Individuals with SMS, Zach Kon, Jeremy Bolt, Julia Cooney, and Cora Faistenhammer joined their families to share their #IAm statements. You can view the #IAm Official Video showcased at the conference here: https://www.youtube.com/watch?v=lzeVtB7TamA&t=7s
The goals of the conference include:
To understand the medical, social, developmental and behavioral aspects of SMS.
To gain knowledge about the most recent advances in diagnosis, management and potential benefits to persons with SMS.
To develop intervention strategies, treatment and management plans for persons with SMS.
To recognize the psychosocial aspects impacting SMS families and the role of PRISMS as a network.
To learn about SMS, past, present and future. And, most importantly, to share information and tips with other families.
Resources from the 2018 Conference
We were honored to have so many experts join us as presenters. As a courtesy to our community, many of our speakers have made their materials and handouts available for download.
Thursday, July 19, 2018:
Teacher and Support Staff Training (download handout)
Adult Living: Residential and Vocational Options (download handout)
Smith-Magenis Syndrome: Putting the Genetic Diagnosis in Context (download handout)
Friday, July 20, 2018:
Saturday, July 21, 2018:
WE BELIEVE THE CONFERENCE SHOULD BE ACCESSIBLE...


Along with subsidizing more than 300 registration costs, PRISMS provides scholarship opportunities to cover additional conference costs for families, educators, and researchers – ranging from registration, to hotel accommodations, to travel.
We believe the conference should be accessible to all, and we are determined to keep costs of attendance for the SMS community low. PRISMS accomplishes this by providing scholarship opportunities to cover conference costs for families and professionals and heavily subsidizing the true cost to all of our attendees. The true cost per person at our international conference is approximately %760. PRISMS subsidizes roughly $500 per registrant, leaving attendees to cover just 30% of each individual cost to attend.
And we are committed to organizing and hosting a high-quality conference full of content that is relevant and empowering for all attendees.
Together through education, awareness, and research, we are all strong.

Help support our efforts to ensure that more members of the SMS community have the opportunity to engage and learn at the 10th International SMS Conference by getting involved in an opportunity below.