The new PRISMS Webinar series is brought to you by the PRISMS Education Committee. The goal of the Education Committee is to establish new platforms which bring educational information and resources about Smith-Magenis Syndrome to the community at large, (via social media, technology, and other), in a more dynamic way, and encourage/activate engagement between families and professionals.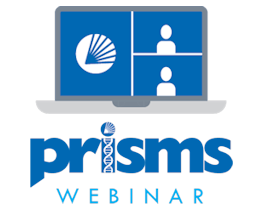 Food Seeking Behavior Management
Date: February 6, 2020 07:00 PM Eastern
Description: Join Dr. Amy McTighe, Director of Care Coordination at The Children's Institute in Pittsburgh, as she presents on the management of food seeking behavior. Dr. McTighe will also discuss the SMS Model for Care Coordination at The Children's Institute.
View RecordingThe History of Smith-Magenis Syndrome,
featuring Ann Smith, M.A., DSc (Hon)
Date: January 22, 2020
Description: Ann C. M. Smith, M.A., DSc (Hon), discusses the history of Smith-Magenis Syndrome and the importance of what we have learned through research. Ann is a founding member of PRISMS and chaired the Professional Advisory Board (PAB) until 2011. She now serves as PAB Emeritus Chair, and has dedicated over 3 decades of her professional career to the study of SMS, the syndrome she co-discovered in early 1980's.
Understanding the Genetics of SMS
Date Presented: August 6, 2019
Description: Rachel Franciskovich, MS, CGC, PRISMS Genetic Counselor,  discusses the genetics behind Smith-Magenis Syndrome. Rachel is a genetic counselor in the department of Molecular and Human Genetics at Baylor College of Medicine and offers support to the SMS community.
SMS Patient Registry Webinar
Date Presented: June 25, 2019
Description: Theresa Wilson from the SMS Patient Registry presents information on what the SMS Patient Registry is, how the information provided is used, and how families can enroll using the new electronic consent form!