The PRISMS Clinic and Research Consortium (PCRC) is designed to expand the availability of comprehensive, clinically appropriate care for the SMS community.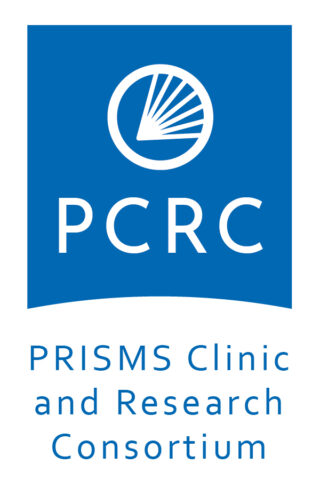 Clinics within the PCRC provide multi-specialty, comprehensive and compassionate care for patients with SMS. The clinics provide families an opportunity to receive medical and clinical care and/or treatment recommendations that they can carry home to their local providers of care and that address the challenges and health concerns associated with SMS. The clinics' approach to care includes consultation with other treatment specialists as needed while developing a plan of care for each patient that strives for health and well-being.
Families should be aware that each clinic is unique and do not necessarily offer identical services. If you have questions about selecting the most appropriate clinic for your child's specific needs, please reach out to us for assistance. In addition, we encourage parents and other caretakers to clearly communicate their needs and expectations to clinic staff in advance of their initial appointment. Lastly, you should be aware that some, if not all, clinics may offer a telemedicine option in lieu of in-person clinic visits.
The PRISMS SMS Clinic Travel Fund Reimbursement Program supports families who need to travel to one of the clinics within the PCRC. This fund will help defray costs for travel, (airline or mileage support), lodging costs or other miscellaneous costs attributed to traveling to a clinic. This reimbursement is available to a family only one time. Please email us to request information and an application.
Clinics by State
California
San Diego
Pediatric Neurology/Smith-Magenis Clinic
Rady Children's Hospital
Ages seen: All
Clinic Director: Dr. Gail Reiner, DNP, FNP-C
Physician Consultant: Kristen Wigby, MD
Clinic Coordinator: Marlene Uriarte
Email: gereiner@health.ucsd.edu
Phone: 858-966-5819
Web: https://www.rchsd.org/
Illinois
Chicago
Smith-Magenis Clinic
Rush University Medical Center
Ages seen: Children and Adults
Medical Director: Elizabeth Berry-Kravis, MD, PhD
Clinic Coordinator: Angel Wang
Email: angel_wang@rush.edu
Phone: 312-942-4036
Web: https://www.rush.edu/
Massachusetts
Lexington (Greater Boston)
Lurie Center for Autism
Massachusetts General Hospital/MassGeneral Hospital for Children
Ages seen: All
Medical Director: Ann Neumeyer, MD
Clinic Coordinator: Ellen Roth, MSW
Email: eroth1@mgh.harvard.edu
Phone: 781-860-1730
Web: www.luriecenter.org
Pennsylvania
Lewisburg
Geisinger SMS Clinic
Geisinger-Bucknell Autism & Developmental Medicine Institute
Ages seen: Children and Adults
Clinic Director: Barbara Haas-Givler, MEd, BCBA
Medical Director: Thomas Challman, MD
Clinic Coordinator: Madeline Williamson, MS, CGC
Email: mlwilliamson@geisinger.edu
Phone: 570-214-1916
Web: https://www.geisingeradmi.org/
Texas
Houston
Smith-Magenis Syndrome Clinic
Texas Children's Hospital
Ages seen: All
Clinic Director: Rachel Franciskovich, MS, CGC
Medical Director: Lorraine Potocki, MD, FACMG
Clinic Coordinator: Rachel Franciskovich, MS, CGC
Email: smsclinic@texaschildrens.org
Phone: 832-822-4280
Web: https://www.texaschildrens.org/