You can help advance Smith-Magenis Syndrome research by having your family or your individual with SMS participate in research studies.
See the list of active studies below to find out if there is a study that is right for you and your family. PRISMS does not endorse any clinical trial or study – we provide this information to the SMS community for your own consideration. 
To stay informed about the latest research updates, make sure to sign up for our email list.
If you are a researcher interested in recruiting individuals with SMS or their family members for your study, please fill out our Research Protocol Submission Form.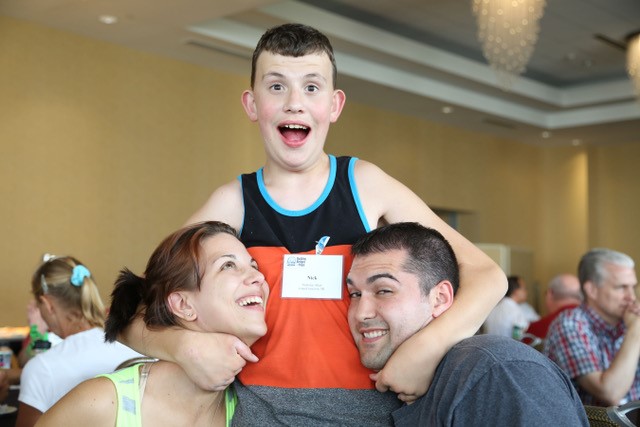 The SMS Patient Registry
One of PRISMS most recent initiatives toward our long-standing aim of supporting research of Smith-Magenis Syndrome, the SMS Patient Registry (SMSPR) is a collaboration between families and researchers that will work together to improve our understanding of SMS.
All

Clinical Trial

For Siblings

Samples

Survey
Closed Research Studies
Data analysis is now being conducted on the research projects listed below. These projects are now closed and the finding will be reported on the PRISMS website.
Natera Microdeletion Study
The Natera team collected blood samples from parents and children with SMS as part of a study to develop a non-invasive prenatal screening test for microdeletions. Data collection was completed in the summer of 2019 and publications are in progress.
SMS IEP Research Study at University of Colorado- Boulder
The SMS IEP Research Study team conducted research in the Department of Speech, Language, and Hearing Sciences at the University of Colorado- Boulder. The study aimed to gather and collect data from parents and IEPs in order to better understand what speech-language services, therapies, and treatments are being provided to children diagnosed with Smith-Magenis Syndrome (SMS) at various schools across the nation. Principal Investigator, Christine Brennan, PhD, CCC-SLP.
Natural History Study of Smith-Magenis Syndrome (SMS) at NIH:
Building on the unique scientific expertise available at the National Institutes of Health (NIH), an inter-disciplinary SMS Research Team of clinical and basic science researchers was established in 2001 to conduct pioneering, state-of-the-art research to further our understanding of this complex rare microdeletion syndrome. The primary goal of the NIH SMS research study was to gain a better understanding of the range and type of medical problems that occur in SMS and how they change over time. Adjunct Principal Investigator: Ann CM Smith, MA, DSc (Hon).
Phase 1 Treatment Trial of Circadian Sleep Disturbances in Smith-Magenis Syndrome (SMS)
In 2008, researchers at the National Institutes of Health (NIH) began active enrollment for the first controlled treatment trial to determine if bright light alone, or in combination with a melatonin tablet preparation, is effective in treating the sleep disturbance in children with Smith-Magenis Syndrome. Adjunct Principal Investigator: Ann CM Smith, MA, DSc (Hon).
Siblings of Children with Neurodevelopmental Disabilities:
An investigation of well-sibling intra-familial relationships. Goals: To examine well-sibling and parental perceptions of sibling relationships in families with at least one well-child and a child with SMS, Down, or Williams syndrome. This study involves the evaluation of social and psychological impacts of well-siblings of individuals with neurodevelopmental disabilities, including Smith-Magenis Syndrome, Williams Syndrome, or Down Syndrome. Principal Investigators: Melanie S. Moshier, Timothy P. York, and Sarah H. Elsea, PhD, Department of Human and Molecular Genetics and Department of Pediatrics Virginia Commonwealth University, Richmond, VA.