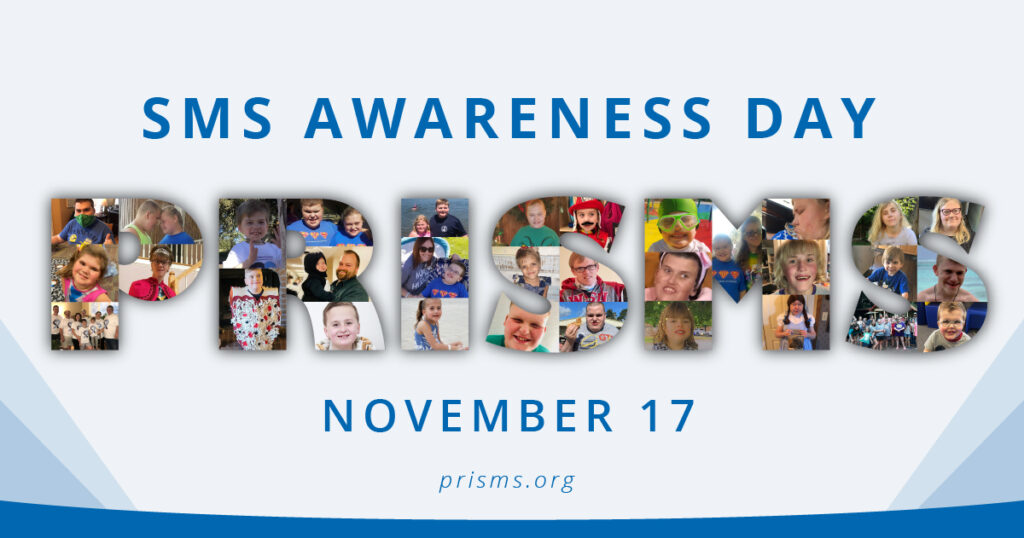 Every November, PRISMS encourages the community to take action, raise awareness, and get involved in honor of SMS Awareness Day! Here's a glimpse at all the ways our SMS community helped spread awareness this month.
We kicked off the month inviting the community to order newly designed SMS Awareness Day t-shirts.  It was great to see so many smiling faces with their new shirts on our social media channels.
New this year was an Awareness Calendar on the PRISMS website with action steps and prompts for our community members to get involved and spread awareness.  The calendar included a thank you card for our Professional Advisory Board, a sibling story, a coloring page activity, an inspirational blog post, and many ideas for our community to spread awareness with their family and friends. Also this month, PRISMS presented a new webinar and teamed up with SMS Australia to help spread awareness around the world! 
Many members of our community jumped in to run online fundraisers to spread awareness of SMS and raise funds for PRISMS this month! This year's Bowling for SMS fundraiser raised $5,485 in much-needed funds for PRISMS programs, education and research. In addition, lots of you jumped on Facebook to raise funds for PRISMS! We had 8 different Facebook fundraisers this year and raised $7500 through your efforts! Special shout out to Monica Vedvig, who committed to biking 17 miles for SMS Awareness on November 17th and exceeded her fundraising goal of $1700 for PRISMS with her Pedaling for PRISMS fundraiser!
On November 17th, SMS Awareness day – we posted a graphic made up of the PRISMS letters with images submitted by our Smith-Magenis Syndrome community. This graphic represents the heart of our community and was well received with almost 8,200 engagements through Facebook!
Thank you to everyone for celebrating SMS Awareness Day with us and for sharing your stories all month! It was wonderful to be able to scroll through social media and see so many joyful and supportive posts from our SMS community. Remember, you don't have to wait until November to raise awareness about SMS – we can do it together all year long!