Written by: Christine Brennan, PhD CCC-SLP, Speech-Language Pathologist and Assistant Professor, University of Colorado, Boulder and Laura Vacek, BA, Speech-Language Pathology Graduate Student Clinician, Northeastern University, Boston
---
What's in this Blog Post?
---
The Perspective of an SLP
The COVID-19 pandemic has caused closures of many schools and clinics. Children and young adults with SMS who typically receive speech and language intervention may not be receiving therapy or, if they are, it is now online. My experience with individuals with SMS and their families leads me to think that many parents/caregivers are concerned about how these changes might impact their child's progress on speech, language, and communication goals.
As a speech-language pathologist (SLP), I know the importance of high quality speech-language intervention. Intervention promotes positive communication outcomes, especially for those with SMS. In times such as these, parents may feel burdened with taking on therapy goals. But parents should know that clinicians do not expect them to become a replacement SLP. Clinicians should know that parents may fear that the loss of in-person therapy sessions will result in lost time for progress on goals. Your child's therapists are probably aware of these concerns. Reach out to them and come up with a manageable home-based plan together.
Also, know that it is appropriate for you as parents and caregivers to prioritize your most important role, which is being a parent. You most likely have many responsibilities including the health and safety not only of your child with SMS, but of yourself and others in your family. Keep in mind that many children (and adults) do not respond to and cooperate with their parents the same way they would a nonfamily member. Taking on the role and responsibilities of an SLP (or any therapist) is probably not possible at any time, let alone during the stressful and emotionally challenging time we find ourselves in today.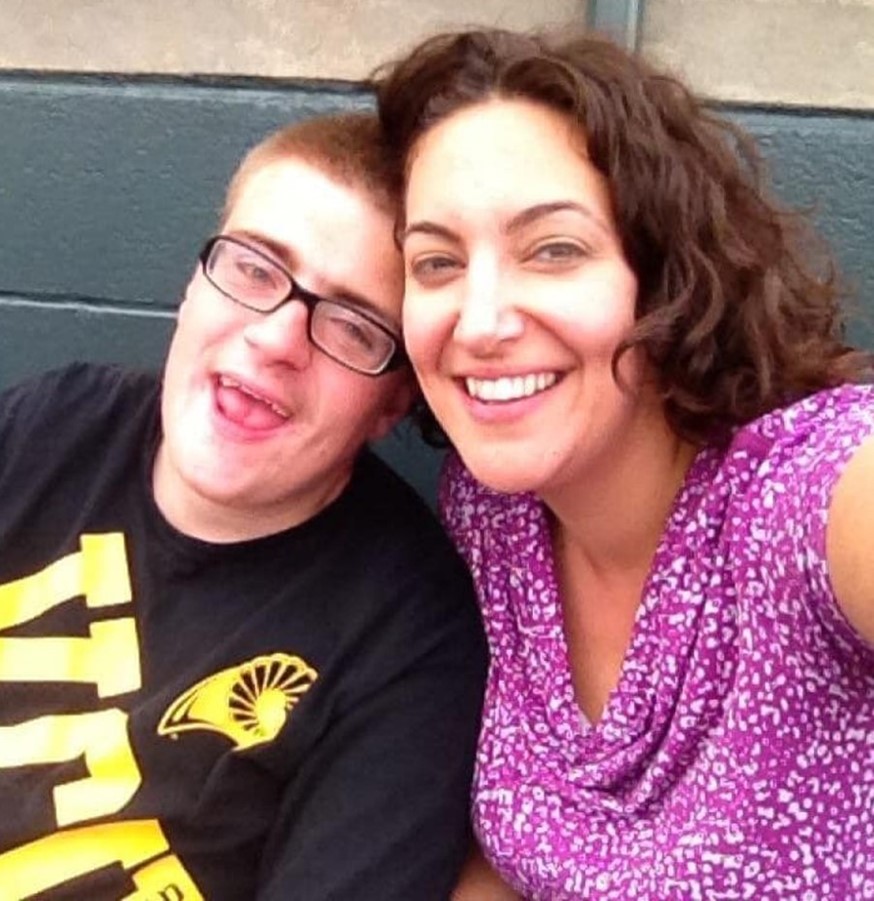 Know this – it is acceptable for you to be what you are (a parent) and that you do not need to try and become a substitute SLP. Your child will survive this and will continue to learn and grow, just differently given this new world.
Parents/caregivers may want to provide opportunities for their child to improve his/her/their communication skills. It is reasonable to want to avoid losing time spent on addressing communication needs. So, what can be done? There are several ways that parents, caregivers, and family members can promote speech, language, and communication skills within the (new) daily routines of the current stay-at-home lifestyle. Furthermore, while this post focuses on speech, language, and communication, many of the following ideas can be applied to other therapies, such as OT (occupational therapy) and PT (physical therapy).
---
Six ideas for working on speech, language, and communication therapy goals at home
1 – Communicate with your child's therapist
Reach out to your child's SLP and ask to review your child's current goals and current level of performance for each goal. Find out if some goals are easier to address at home. Ask the SLP to make recommendations about how you can work on the goals. Specifically, find out what strategies or types of activities worked well for your child in therapy sessions and if such activities can be replicated at home.
2 – Choose methods and activities that are best suited to your child's needs
Because individuals with SMS can present challenging behaviors (especially when trying to assert control), some methods will be more effective than others. For example, if your child refuses to answer questions or comply with directions/requests, try modeling (demonstrating) of the speech, language, and communication skills targeted in therapy. You may not see immediate results, but because providing a good model does not require cooperation, this is something you can do even with a child who does not easily cooperate.
If you can motivate your child to do more structured activities (homework, worksheets, or therapy-like activities) by offering a reward, make sure the reward is attainable (i.e., do not make the task too difficult or too long). Offering a reward but making the task too challenging to earn that reward can backfire. This may result in making your child less likely to cooperate the next time. If you can get your child to participate in structured activities, they should be short and relatively easy to ensure maximal attention and cooperation.
3 – Do not attempt goals that are too advanced
If children cannot do what you ask them to do (even with a model), they may become frustrated or angry or they may learn incorrectly. Focus on what they can do easily and accurately and try to push them just a bit beyond that. For example, if one goal is to use full sentences but they answer in single words, try working on using two word combinations or short phrases before you attempt longer and more complex sentences. In the same scenario, providing a model can help, but again, if you use models with a directive (such as, "repeat after me" or "say it like me"), you are giving your child the opportunity to refuse. For many individuals with SMS, models will be most helpful if you do not also demand repetition. Demands for any behavior work best only when motivation is high (usually when a highly desirable reward is possible) and when the task is relatively easy.
4 – Re-prioritize communication goals for your child
The therapist working with your child may have had a number of speech, language, and communication goals that were worked on during each therapy session. At home, it will be more effective if you prioritize one or two goals to work on rather than trying to address all of them. You can prioritize goals one of two different ways: (1) by which has the greatest functional impact or (2) by the easiest to achieve.
The first way to prioritize goals is to start with goals that (if achieved) will have the greatest functional outcome. For example, if your child has limited vocabulary, expanding the number of words they can say or sign can improve their ability to communicate with others. In contrast, if pronunciation of the "r" sound is incorrect but your child's speech can be understood by others, getting them to perfect their pronunciation will not make a significant impact on their communication success.
The second way to prioritize goals is to start with goals that your child is most willing to work on and/or goals for which you child is making the most progress. By selecting the easiest goals for your child, you can make a lot of progress more quickly. Once these goals are mastered, you can either try to advance the skill to the next level of difficulty or complexity (called scaffolding) or you can move on to other more challenging goals.
5 – Capitalize on everyday opportunities to promote speech, language, and communication skills
Instead of trying to come up with therapy-like activities to work on goals, take advantage of everyday activities. Daily activities present many natural opportunities to address therapy goals. Such activities include shared book reading, cooking, house or yard chores, preparing a grocery list, calling family members, doing art projects, playing games, exercising, and engaging in imaginative play (e.g., pretending to be astronauts or firemen).
Shared book reading
Shared book reading is a great activity, especially if your child enjoys books. Many studies have found that shared book reading is an effective way for educators, therapists, and parents to work on language and reading goals. For those with SMS, the use of contextualization strategies might be most effective. These are strategies that provide or add to the context of stories without demanding some type of response. For example, read a page and then, instead of asking your child question about the pictures or story, wonder aloud about the story (e.g., "I wonder what will happen next?" or "I wonder how [character name] feels?"). Other contextualization strategies you can use include sharing your own opinions, relating the story to your own personal experience, expanding on an idea or word in the story, and providing an emotional reading of the characters. Use of these strategies provides a rich language model that also shows new ways of thinking. If done correctly, it can also be done without demanding your child answer questions or perform in a specific way (so, there is no way for your child to fail). When successful, children will begin to participate in shared book reading the same way (for example, they will wonder aloud and share their options).
Expanding language
Expanding your child's language is another way to increase vocabulary and promote language use without demanding responses. Referred to as expansive recasts, this practice involves repeating what a child says and adding details to expand on the original statement made by the child. For example, if your child said, "The dog is playing," you can expand on it by saying, "Yes, the dog is playing with the bone." This approach provides models of vocabulary and longer more complex sentences without forcing your child to repeat what you say or answer questions.
Enlist communication partners
Take advantage of the other people who regularly talk with your child and ask them to model or prompt targeted communication skills. This can include siblings, grandparents, and friends. Even if your child is staying at home, he/she/they may be video chatting or calling others. During these interactions, the person your child is talking to can use models or prompts. For example, if the SLP uses a visual reminder for a speech sound, such as how to position the lips or teeth, others can use the same reminder when talking to your child. Or, maybe there is a goal to answer a question before taking the next turn in a conversation. In this case, the SLP may prompt the child to remember he/she needs to answer the question before continuing the conversation. Having others model and reinforce targeted communication skills, especially during highly motivating interactions (such as video calls with grandparents or friends), can significantly improve communication performance.
Daily home-based activities
Along with shared book reading and expanding language, engaging in daily home-based activities with your child such as cooking, house or yard chores, preparing a grocery list, calling family members, doing art projects, playing games, exercising, and engaging in imaginative play can provide fun and natural ways for you to model speech and language. During these activities, you can use the same type of contextualization strategies used during shared book reading. You can also expand your child's language, engage in conversations, provide opportunities to learn and use new vocabulary, and practice social skills, such as turn taking and negotiating. Try to see every activity as one that can potentially be used to promote communication goals. In fact, this can even be more effective than having a child only work on communication goals in structured tasks. This is because working on communication during regular daily activities promotes the generalization of communication skills across situations, activities, and contexts.
6 – Focus on what you can do (and what your child is willing to do) rather than on what is not working
Finally, know this will not be easy and if something you tried did not work, change it up a bit. If it continues to be too challenging, not effective, or your child refuses to participate, move on to something else. Also, give your child some control (or a sense of control) to get the greatest level of cooperation and rely on more on modeling, expanding, and contextualization strategies than directives. Do not get discouraged if what you are trying to do doesn't work. In those moments, remind yourself that there are many ways to work on speech, language, and communication and there are many opportunities to try again throughout every day. Use the opportunities that present themselves and try not to be too disappointed when things do not go the way you planned. If your child realizes that you are disappointed, he/she/they may not want to participate any further. Instead, try and see these difficult moments as learning opportunities for both you and your child and focus on what comes next.
Engaging with your child on his/her/their terms can provide effective ways to promote speech, language, and communication. While giving up total control may not be reasonable, letting your child take the lead for some activities may provide opportunities to push their skills to a new level. When they are in control (or have the sense that they are in control), they may be their most comfortable and may be most receptive to being nudged on their communication goals. This is because when they are in control, there is no need to try get control. When possible, and if your child initiates an interaction/activity, go with it. Use modeling and the other strategies described here to promote goals and build knowledge, vocabulary, language, and social skills.

---
Additional Resources
In addition to these six ideas, the following resources may also be helpful to parents and caregivers trying to address therapy goals at home.
Helpful Websites Related to Learning at Home:
Home Practice Guidance for Parents during COVID-19
16 Shared Reading Tips to Share with Parents
9 tips for parents navigating online learning with their children due to Coronavirus
Home learning for kids and parents amid COVID-19
The Sesame Street website has many educational activities for children. Additionally, they have added a Caring for Each Other initiative which includes resources designed to provide comfort, manage anxiety, and foster learning at home. The website includes activities for daily routines, videos, printables, and interactive games.
ACDS is a nonprofit organization dedicated to providing lifetime resources of exceptional quality, innovation and inclusion for individuals with Down syndrome and other developmental disabilities and their families. The ACDS Facebook page includes posts on all types of therapy and home learning ideas, many of which include links to additional online resources and apps.
Helpful Apps:
Speech Blubs is a speech learning app that offers a variety of fun, engaging, and educational activities that will boost speech. There is a 7-day free trial, after which it costs around $5 per month.
Educational App Store is a discovery, review, and recommendation platform for educational apps. All of the apps are certified and reviewed by professionally experienced teachers. The apps available are not free, but there are many available that can address speech, language, and communication.
KidloLand is an online site that offers free apps for kids 1-8 years of age and includes alphabet games, shapes, colors, nursery rhymes, songs, and stories. These apps target educational learning and language.
Online Educational Resources:
Storyline Online® is a free site that streams videos featuring famous actors and actresses reading children's books alongside creatively produced animations and illustrations. Readers include Oprah Winfrey, Chris Pine, Kristen Bell, Kevin Costner, Lily Tomlin, Betty White, Wanda Sykes and many more. Hundreds of books are available and videos can be watched alone or with a family member.
ABC Mouse is an interactive educational curriculum that provides the opportunity to learn the alphabet with illustrations, narrations, sound effects, and music to keep children engaged. The site includes more than 850 lessons and uses a rewards system to motive children to continue each lesson. There is a one month free trial, after which it costs around $10 per month.
Adventure Academy is a virtual universe in which your avatar can explore and learn. This site provides access to hundreds of hours of educational activities teaching essential skills in math, language arts, science, social studies, and more. The first month is free, after which it costs around $10 per month.
Boom Learning makes online activities and lessons for academics and speech and language. There is a limited free package (a few lessons) and several larger packages (more lessons) ranging from $15 – $35 per year.
Teacher LJ is an Early Childhood Specialist from CU Boulder in the Department of Speech, Language, and Hearing Sciences. She is posting free videos for young children with and without disabilities. The videos include book reading, sign language, social skill lessons, music, farm animals, puppets, dancing, and more. Each video is about 15-23 minutes long.
Online ASL storybooks:
The Motion Light Lab from Gallaudet University is now making ASL storybooks available (free) on the iPad App Store. To supplement the storybooks, they are also offering free weekly sessions that align with their storybook apps and curated ASL literacy resources.
Occupational and Physical Therapy Resources:
Your Therapy Source is a site that provides special education, occupational and physical therapy printables, forms, worksheets, and activity ideas for activities at home. Some materials are free while others have variable costs.
Do it yourself home-based activities:
Words List
This activity targets sound production practice. It's a quick and easy way to provide practice opportunities at home. It can be done anywhere in the home!
Pick one or two sounds your child has been practicing.
Next, choose 5 words that contain those sounds at the beginning of the words. For example, if he/she is working on the "f" sound, pick five words that start with that letter.
Write the five words on a piece of paper and tape it to the wall/refrigerator/door (or somewhere else in the kitchen/house).
Every time your child is in the same room as the words list, have them say all five of the words.
Words can be changed out as the child masters producing the sound in specific words.
Vocabulary Bingo
This activity can be created right at home! Using paper, markers, and bingo chips (can be food or plastic) you can create a game the whole family can play. Whether your child is working on learning their colors, animals, shapes, numbers, letters, etc., this can be used to provide your child with a visual aid while be given the vocabulary verbally. It's a great way to practice and expand your child's vocabulary.
I Spy
This activity allows you to use items in the home to practice speech sounds and word production. First, pick a few items/toys that all start with a different letter. For example, one toy that's name starts with "t," another that starts with "s," etc. Then say to your child, "I spy something that starts with…" and make the sound. They will then pick the item and say its name. To practice having your child say the sound, they can be the ones to say, "I spy something that starts with…"
Board Game & Answering Who, What, Where, When, Why Questions
This activity can be done using a board game in your home or one you make. While playing the game, you can only move around the game board after you have answered a "wh" question. Based on your child's age, these are questions that can be made up or provided by online resources. Below is a link to a list of questions. This is a great way to keep it fun while incorporating language.
134 WH Questions for Speech Therapy Practice
Turn Taking in Conversations
Many individuals with SMS enjoy social interactions with others, but they often monopolize the conversation by asking many questions. If your child has a goal to improve turn taking during conversations, you can give a reminder that you get a turn in the conversation. As with the initial advice above, talk to your child's SLP to see if there are reminders or phrases that have been successful in improving conversational turn taking.