2019 10th SMS Research Symposium
September 30 – October 1, 2019
Our 2019 SMS Research Symposium was organized by PRISMS in partnership with the Smith-Magenis Syndrome Research Foundation (SMSRF). This was the first official event organized jointly as part of our Together for Hope collaboration, working towards the goal of advancing SMS research by inspiring collaboration between researchers at different academic institutions. We are very proud to be standing with the SMSRF for this partnership, so that we may better serve the greater SMS community.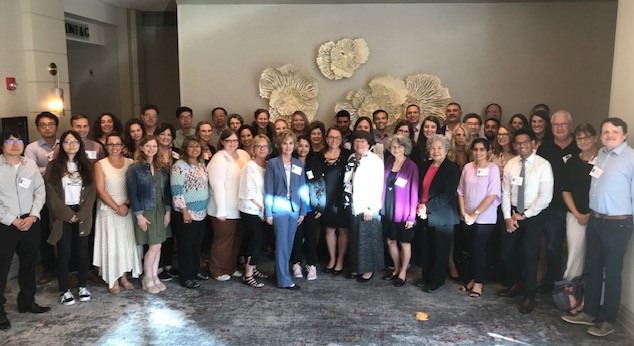 The 2019 symposium was the largest gathering of SMS researchers to date and we were pleased to see that the interest in studying SMS is expanding and making inroads in new research disciplines. We welcomed almost sixty attendees to the symposium and a total of nineteen abstracts were presented (fifteen talks and four posters). Travel scholarships were granted to three attendees, reinforcing the goal of inclusiveness and access for new researchers.
Symposium presenters represented the Cerebra Centre in the United Kingdom, Baylor College of Medicine, the National Human Genome Research Institute at the National Institutes of Health, University of Michigan, Rady Children's Hospital, Geisinger Autism and Developmental Medicine Institute, Vanda Pharmaceuticals, St. Louis Children's Hospital, and The Children's Institute of Pittsburgh.
Our Keynote speaker was Gianluca Pirozzi, MD, PhD, who is a member of the SMSRF Scientific Advisory Panel and parent of a daughter with SMS. Dr. Pirozzi's keynote address, "iHOPE in SMS Research," can be viewed through our Facebook page. Dr. Pirozzi's unique perspective as both researcher and parent allowed for a very impassioned keynote address.
The symposium provided a time for discussion and brainstorming between researchers. We look forward to new collaborations on the horizon as a result of this effort. We are grateful to our dedicated researchers for their continued work and their commitment to the SMS community, and look forward to the 2021 SMS Research Symposium!
For a full listing of the abstracts presented at the 2019 SMS Research Symposium, please see the 2019 SMS Research Symposium Abstracts page.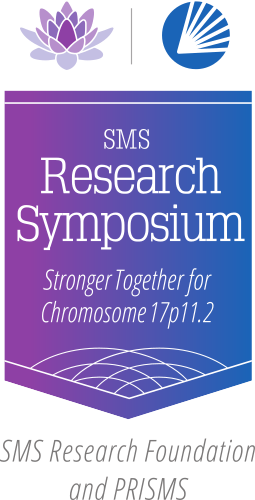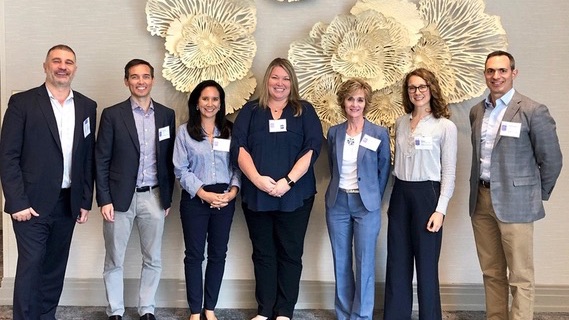 Symposium Scholarship Attendee Summaries
Attendee: Francis James Gordovez
Thank you very much PRISMS and SMSRF for the invitation and the support to attend the 10th SMS Research Symposium. I met experts devoted to studying SMS and exchanged ideas with other scientists coming from different disciplines. I was also able to share my findings regarding my research on cellular models for SMS. More importantly, I was able to learn more about people living with SMS and the experience of their caregivers. Now, long hours in the laboratory is certainly more worthwhile knowing that in my own little way, I may be able to contribute to the growing knowledge which will someday improve the lives of people living with SMS. May you continue enabling a collaborative research environment. I look forward to joining you again to future conferences!
Attendee: Georgie Agar
Attending the 10th SMS Research Symposium hosted by PRISMS and the SMSRF was a brilliant experience for me as an early career researcher.  Myself and my colleague are based in the UK and were pleased to be able to meet so many researchers from the International SMS community, as well as parents and stakeholders with a shared interest.
The initial welcome event was an excellent opportunity to meet like-minded researchers and discuss ideas in a relaxed setting. I also really benefited from the opportunity to share the findings from my PhD research –investigating the longitudinal sleep profile in children with SMS – in a welcoming environment. The questions and comments from researchers and professionals across disciplines were invaluable and have helped me to develop my ideas for my thesis further.
Additionally the open discussion session amongst attendees was very useful, and the conversation around methods and approaches to assessing sleep in individuals with SMS will inform my future research proposals.
I am very grateful for the opportunity to present, and to PRISMS for the bursary. Thanks again for a wonderful time at the conference!
Attendee: Osman Umarji
Attending the PRISMS Research Symposium in Houston was an incredible experience. Ever since my son, Malik, was diagnosed with SMS five years ago, I have wanted to participate in research on Smith-Magenis syndrome. Having just completed my doctorate, the research symposium was the perfect opportunity to learn about the latest SMS research, network with researchers, and forge relationships that I hope will lead to promising collaborations in the near future. With my expertise in psychology and statistics, I hope to conduct research on numerous topics, including sleep, parenting practices, behavior, executive function, and educational environments and outcomes.
During the conference, I was able to discuss possible collaborations with Ann Smith, Gail Reiner, Sarah Elsea, and a number of other researchers located in the US and in the UK. Additionally, I hope to help formulate a strategy for consolidating the data that has been collected on SMS children and families over the years, so that a more comprehensive dataset can be made available to researchers. I also look forward to creating email groups for researchers interested in similar topics with the goal of encouraging collaboration across institutions and alignment amongst researchers in adopting empirically valid survey instruments and cognitive tasks.
Finally, as a parent of a child with SMS, attending the symposium gave me hope for the future of my child and SMS children everywhere. As all SMS families struggle to cope with the challenges of the syndrome, seeing some of the brightest minds in the fields of genetics, psychology, and biology put their efforts towards alleviating the symptoms of SMS and discover long term solutions that may restore functionality of compromised neurobiological systems gives me so much optimism that our children will thrive in ways we never imagined. I am incredibly grateful to PRISMS for supporting me to attend and benefit from the research symposium.