By: Diane Erth, PRISMS Board Member
Planning a road trip can be exciting and fun but when your road trip includes a child with SMS, much more planning is needed. Here is a bit about a trip we took recently and what I did to ensure it would be a hit!
As many of you know, I LOVE adventures. In 2010, Max was diagnosed with SMS at just 30 days old. After talking to several other SMS parents, the advice which was repeated over and over again was, "take Max on adventures now while he's a baby because as he gets older, you won't be able to." Those words played over and over in my head. I decided we would get as much adventuring in as possible because as time passed, I expected we would no longer be able to do the adventures which healed my soul.
Max is now 11 and a 1/2 and we continue to go on great adventures! These adventures have included Disneyland visits, trips to see out-of-state family, cruises, and even flying to Europe. Max LOVES adventures as much as I do!
The year 2020 was difficult for everyone. Living in California, we were "locked down" for most of the year. After a year of being home, my friend, Kristin, who is a mom to three kids, one with special needs, and I decided to hit the road! As a self-proclaimed "DisNerd" I was missing my home away from home in a bad way. Disneyland had closed on March 13th, 2020 and with no signs of it opening any time soon, I was desperate for an alternative. (Disneyland has since opened and yes, we have tickets and reservations for a visit very soon!) We decided to drive cross country from San Diego, California to Walt Disney World in Florida and back! We planned to explore as much as possible along the way. There were places that she wanted to see, places I wanted to see, and places the kids wanted to see. We began researching all the places on our list to plan the ultimate inclusive adventure!
Once we had our itinerary in place, I searched YouTube and found many videos of the places we would be. In the days before we left, I showed Max a couple of videos a day and we talked about the places we'd be going. I felt this gave Max the ability to understand why we'd be in the SUV for so long. I also felt it was important for him to have a sense of "routine" even though we were miles from home.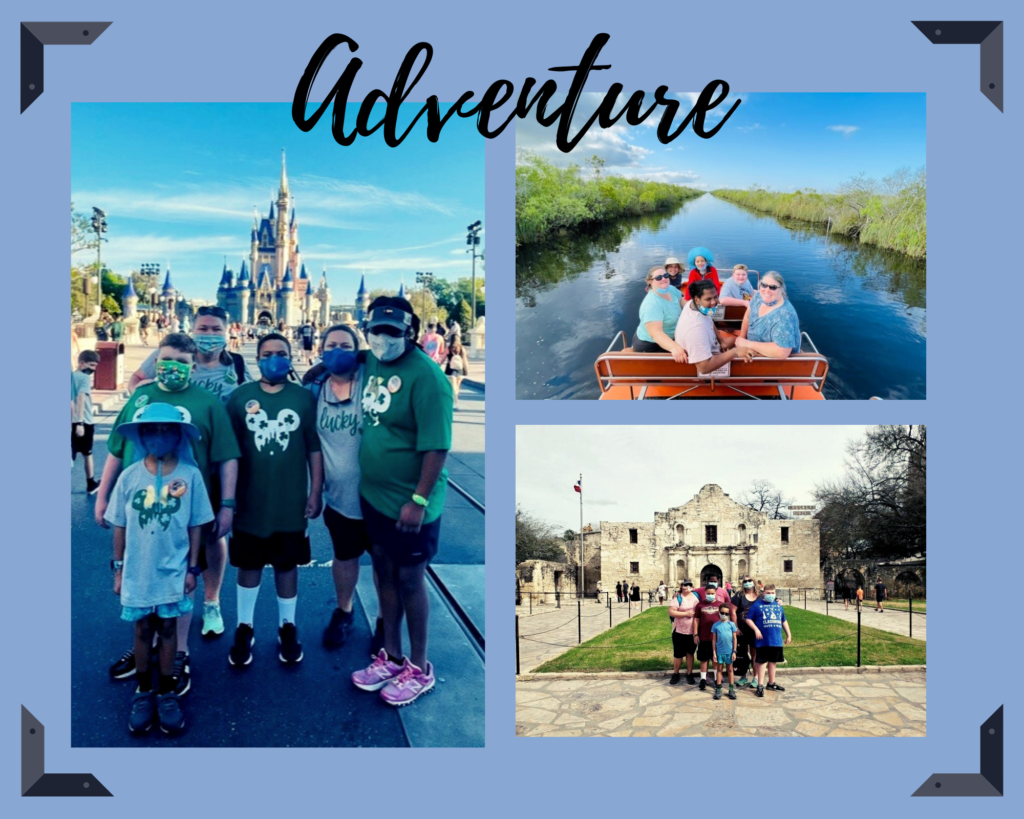 I brought familiar snacks, a favorite blanket, and of course, his iPad. I made sure to tell him what the plan was each day. Sometimes that meant telling him that we'd be driving for a long time and sharing what hotel we'd be in that night, which he enjoys. We knew there would be activities which the kids favored over the adults and vice versa. I explained that with 6 people, everyone would get to choose a fun activity on the trip. I wanted him to have choices and be an active participant as well. I'd be lying if I said there weren't a few "forced choices" offered. Ex: "Do you want to go to Disneyworld or do homework today?" I knew he would choose Disney World, but choosing that helped him feel like he had a say in the adventure that day.
Some adventures were easy, like Morgan's Wonderland in San Antonio, the Houston Space Center, the Georgia Aquarium, and Walt Disney World in Florida. These all included an open schedule, lots of physical activities, and hands-on exploring. Other activities proved to be more difficult. When swimming with the manatees in Florida, we didn't anticipate a current in the water would make it difficult for the kids. Our airboat tour in the Everglades was super loud and instead of proper headphones, we were given foam earplugs. The two kids with special needs were not too pleased. On the other hand, some adventures which I anticipated having possible issues actually ended up being great!
All of the kids loved Graceland. I think it was because the tours are done via iPad, so each kid got their own iPad with headphones and the "kids" tour. Thank you, thank you very much. Another successful tactic in planning was calling ahead to each of our adventures to make sure they were appropriate/accessible for our party. We explained that we were traveling with four kids, including two with special needs, and asked all the questions we had to ensure that our activity would work. Ex: At Graceland, I wanted to make sure we had a private tour in case the kids were noisy or distracting. I also clarified with an employee that we could get through the entire tour in 20 minutes if we needed to make a quick exit. They assured me that we would have a private tour and could move through the house and exhibits at whatever pace worked for us. We ended up spending hours at the mansion and adjacent compound of exhibits!
Once we got home and unpacked, Kristin and I started planning for our next road trip. This summer we are driving up the Western Coast to explore new places and have more adventures. Traveling with Max does require more planning but the fun memory-making adventures are well worth it!
If you have any questions about what we did or where we went, feel free to reach out to me at derth@prisms.org.
Do you have a story about SMS that you want to share with the PRISMS community? Remember, you can share your SMS story with us anytime by filling out our Share Your Story form!