By: Haley Rupp
My name is Haley and I am 23 years old, the youngest of three children. My oldest sister, Kristen, is 29, and right in the middle of us is Carley, who is 27 and is diagnosed with Smith-Magenis syndrome. Growing up, Carley always created exciting energy in our home. With her laughter, enthusiasm, and love for making conversation, her spirit was contagious.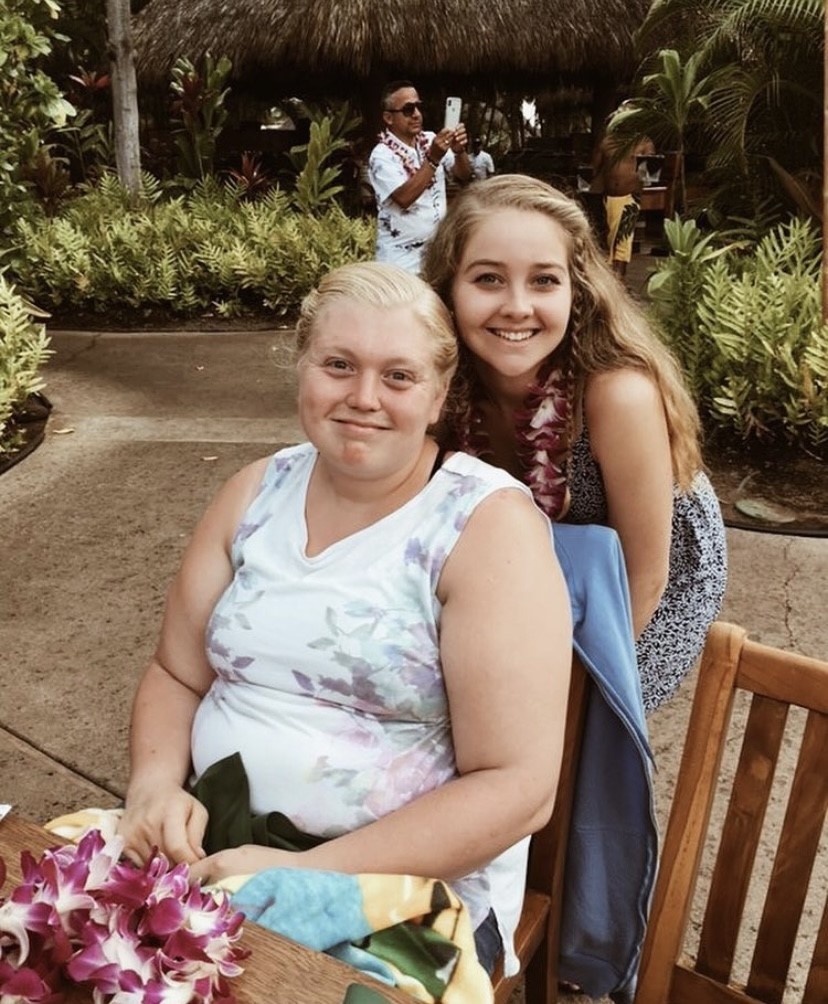 The three of us sisters, along with our wonderful, loving parents, grew up in Bethesda, Maryland. One of the aspects of that house I remember the most is how Carley had her swing in the backyard. For as long as I can remember, Carley was swinging and singing. She could spend hours out there, rain or shine, and it was one of her favorite things to do. Although as a young girl I was worried the neighbors would hear her singing and get annoyed, the people around us knew Carley and knew she had a kind heart. They really did not mind since they knew what it meant to her. She gets so much joy from singing loudly while on the swing and often uses it as an outlet when she is getting overwhelmed, even to this day. Whenever I see a swing, I immediately think of Carley and the positive escape that swinging gives her.
Carley is always there to celebrate anyone in my family's victories and accomplishments with a huge smile and hug. She is amazing at completing puzzles and remembering birthdays. Even months after going out to dinner, she can recall our waiter's name. When going to the grocery store, she knows many of the employees' names and will start conversations with them. Some of her other interests are staying updated on the stock market and baseball players' statistics. Any time my parents have a difficult time getting a TV or computer working, Carley is there ready to fix it. Even with all these attributes, one of the things I love the most about Carley is the way she makes others feel, whether she has known them for years or she is meeting them for the first time. She has the ability to make people feel recognized and heard, remembering details about them and showing genuine interest in what is important to them.
Since her diagnosis at the age of 22, it has become easier to read more about her behaviors and to see that it is not just her struggling with certain things. I have also been able to read sibling stories through PRISMS, which has made me feel heard in a way I hadn't in the past. Seeing that I am not alone in some of the difficult emotions that come with having a sibling with SMS is incredibly validating, and for that, I will always be grateful for PRISMS.
There are some low moments that come with having a sibling with SMS, but also many highs. Reading about the high moments of other families and thinking about the high moments in my own life, gives me a lot of hope. I think about Carley's high school graduation, and the immense amount of pride I felt in her for all her hard work and what she had overcome to get her GED. I think about her cooking dinner for my family, recommending movies to me, and the large village of incredible people who love Carley.
The SMS community is quite a beautiful one, with so much love and support being shown to everyone, and I am fortunate to have this resource to help me learn more about Carley and who she is every single day. Some moments come with frustrations and anger, with me getting upset at Carley and angry at some of the situations I have been in due to her having a difficult time, but at those times I try to remind myself of Carley on that swing, singing and enjoying life with a smile on her face.
If you are a SMS sibling and would like to talk to Haley, you can email info@prisms.org and PRISMS will connect you.