By Kayla Beecher
Hello! I'm Kayla Beecher, mom to Kaydence Beecher, better known as KK! We're new to the SMS Community, but have been looking for answers for our daughter since she was about 10 months old. So, while we've been in the game of therapy, testing, waiting, begging, asking, worrying, searching, and all the other things that describe life with a special needs kiddo; we've just recently found our place of belonging. Kaydence FINALLY got diagnosed in March or 2021- smack dab in the middle of COVID.
Before KK was even 1, I knew in my heart something was 'off' or different about her when comparing her milestones and development to her older brother, my nearly 3-year-old son, Kreed. At her 1- year evaluation I voiced concerns about rapid weight gain, loss of babbling, and not walking among other things. Our doctor told us to not compare her to her brother, as all babies develop differently- I think that's the only thing he got right! I got put off and ignored for an entire year! Finally, at her 2- year evaluation I told our doctor to help us or to find us someone who would. Around this time, we had a newborn also, life was HARD!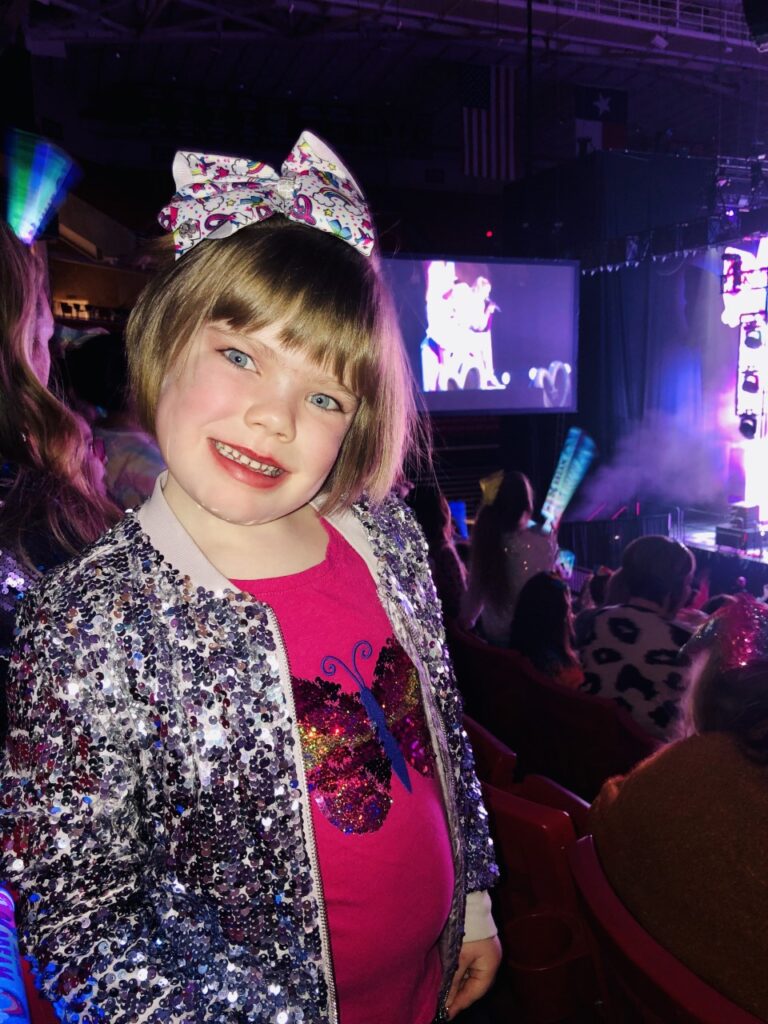 At first, therapists with ECI thought she just had apraxia and was a little obese. We worked with in home speech, PT, OT, a nutritionist, and a case worker from 2.5-3 years of age. In 6 months, time, we finally had her at least making noises! Thank you, Lord! Then we transferred into the public-school setting for speech- they denied her ALL other therapies as it wasn't an educational need yet because she wasn't in the classroom. That didn't stop us. We got on board with more therapy in the closest city (85 miles away) and drove multiple times a week. During this time, we had our first round of genetic testing- just a chromosomal count was done though- so nothing abnormal was caught so she was diagnosed with Global Delay. A sleep study was also done and adenoids were removed- that was a fun experience without knowing we had SMS (lots of sarcasm there, I didn't think we were going to survive)! We worked and worked for the next year. Our health insurance changed and so we had to change therapy facilities- this was a huge blessing in disguise! Although we were still driving 85 miles several times a week, this facility had a strong suspicion much more was going on. They found us a phenomenal pediatrician, who herself has a child with special needs. For the first time in years, I felt like we were finally being heard! She immediately ordered tests and wasn't going to take no for an answer either! We finally had a breakthrough and while we were excited and ready to know what we were facing we were not prepared for what our future was going to hold. I was also so thankful I wasn't crazy and it wasn't all just in my head.
The day her genetics specialist called us with her results was such a sigh of relief and also so scary. We had never heard of SMS and there wasn't much to be found with a quick google search. We didn't have much time to process the diagnosis. Her genetics doctor started to set up appointments with a heart doctor, endocrinology, and urology just to name a few. We also discovered that she also has Cushing's Syndrome as well. With every specialist we met there was more to add to the issues going on we had no clue about, but all were common with SMS. It's wild how the SMS shoe has fit her nearly perfectly.
In the last year since her formal diagnosis, we've made leaps and bounds! She's graduated from PT and OT (for now) and we're keeping her weight managed and she's talking, non-stop! We got her a Safety Sleeper- that in itself has been a Godsend (she could have burned down our house using the microwave once)! She got to start taking Hetlioz for sleep support and it has worked amazingly for her! Most importantly, we've found a school that she loves with a small class size, that is faith-based, and teachers that accept and love all parts of her! She has learned to read, write and do all the other things her peers are doing, although she will tell you that she hates math minutes.
Her classmates love her and help her through her day! She's growing and changing every day. What she has accomplished has surpassed all expectations we had after her diagnosis. Her Kindergarten teacher and the school principal took a HUGE gamble on her and leaped in head first even though none of us knew what we were doing. The school she attends does not have a special education department or special education teachers. We worked together and we made adjustments and just went with the flow so to speak. She was doing her work on her own, I thought the whole time she was having help. Her teacher, and one of her biggest cheerleaders, is like an angel on Earth and does so much for Kaydence even though she is no longer in her class.
This year, she successfully completed first grade, with all passing grades, and will move on to mainstream 2nd grade next year with the rest of her classmates. A huge game-changer for her this year was getting glasses! She had terrible vision and we had no idea! Glasses made her turn into a totally different child in the classroom! While we know there will be challenges next year, we are still so thrilled for her! This year she ended school with a bang and sang 'Jesus Loves Me' in the talent show, on her own, in front of the entire school (grades K-8)!
Kaydence has even ventured into sports, soccer and baseball have been what we have tried so far. Our community is so good to her and rallies behind her and cheers her on. She's like a mini small-town celebrity and everyone knows who KK is! I can't express what that does for her or our family. To feel accepted and loved even though it is very hard to at times. Although she has come leaps and bounds, we still have difficult days and huge meltdowns. Those times are hard and patience isn't always easy to find. We've learned her strengths, what makes her tick and how to manage for the most part. Her siblings are amazing and usually aren't commended enough for the love and support they give their sister. Although they don't understand the magnitude of her diagnosis they protect and love her fiercely, and I am so proud.
You never want something to be wrong with your child. From the moment you know of their existence, you start to dream of them and their future. All the things they will do and become. Not once did I anticipate this. Never did I think it would be us. While it could be much harder and much scarier, it still doesn't take away the grief and sadness you feel when you come to terms with the fact that all those things you dreamed for this sweet baby will maybe never come to fruition or will look differently for them than their siblings. I will say that Kaydence has taught me more than I could ever teach her. Patience, empathy, and compassion just to name a few. She saved me in a way that is hard to describe and for her, I'm forever grateful. I've learned to always have hope and to always trust the bigger plan.
Keep the faith, don't take no for an answer, and make the sacrifices. I decided a long time ago that I will do what it takes to give KK every opportunity possible and if she wants to try something new, I'm going to make it happen for her. Her diagnosis does not define her or make her who she is. It's a small portion of what makes KK, KK. While it does consume a large portion of our life, it's not all just SMS and doctor appointments. There is a lot more sunshine than rainy weather and much more laughter than tears. My goal and desire is to learn more about SMS, educate others, and help other parents advocate for their children whether it be something like apraxia or something like SMS. All children and families deserve a voice and an answer and a means to thrive! This summer Kaydence is going to try piano lessons for the first time, and attend a cheer camp and a few other small camps in our community- all things she has asked to do and we are so excited to see what they will bring!
If you would like to share your SMS story, please reach out to us here. We want you to hear about your journey with Smith-Magenis syndrome.