By Robert Miller, Advisor on Clinic Relations
PRISMS is pleased to announce the online publication of its first in a series of family-friendly treatment recommendations. This series is designed to provide essential information to parents, caretakers, and other professionals who may be providing services to an individual with Smith-Magenis Syndrome (SMS), but who are not SMS experts.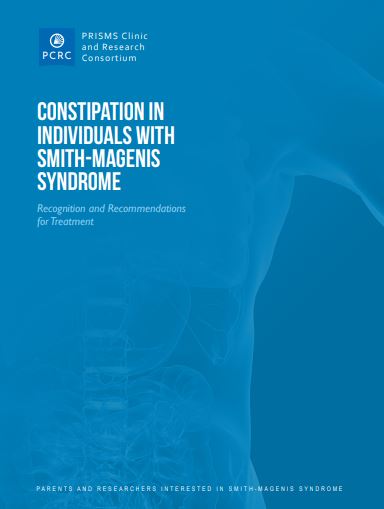 PRISMS family-friendly treatment recommendations are developed and reviewed by members of the PRISMS Clinic & Research Consortium (PCRC) as well as outside experts the PCRC may invite as contributors. They are also reviewed by members of the PRISMS Professional Advisory Board. The recommendations are consensus-based and represent the expert opinion of the PCRC. In addition, as research better informs us about SMS, the documents will include evidence-based recommendations.
The first topic of our treatment recommendations is constipation. Constipation is a common concern reported by caregivers of individuals with special health care needs, such as SMS. Smith and colleagues identified constipation as a frequent medical symptom observed among 53% of study participants.
The full title of this report, spearheaded by PCRC members Gail Reiner DNP, FNP-C, and Ann C.M. Smith, MA, DSc (Hon.), CGC, is Constipation in Individuals with Smith-Magenis Syndrome: Recognition and Recommendations for Treatment.
You can find this and all of our future treatment recommendations on the Medical Management and Treatment page.
We hope you find this report useful! If you have feedback on other treatment recommendation documents that you would like to see, please reach out to us with your ideas at info@prisms.org.
The PCRC is designed to expand the availability of comprehensive, clinically appropriate care for the SMS community.  To learn more about the PCRC and see clinics available near you, check out the SMS Clinics page.