By Jennifer Klump
November is National Adoption Month. It is the month when the broader community acknowledges the efforts of those whose lives have been impacted by adoption. It also helps spread awareness and encourages all of us to learn about adoption. In celebration, PRISMS Regional Representative, Jennifer Klump, shares her adoption story with us.
Our adoption story began back in 2007 when we got to know other family friends who had adopted children from China. We knew it would be a long journey, but we were sure it would be worth the wait. When we realized that there were many children with special needs who were waiting for their forever families and that the wait time would be several months, rather than several years, we decided to become a parent of a little boy who was diagnosed with a heart condition, called a ventricular septal defect. We read all we could on the condition, and in our letter of interest, we assured the Chinese government that we would love our child unconditionally, have him grow up with knowledge of his cultural background, and take care of all his special needs.
When we saw the first pictures of our son, he was all bundled up in yellow clothing and smiling broadly from his crib. We sent our son a care package, which included a photo album of ourselves, his grandparents, our cat, and a picture of our house. We also included a toy airplane and stuffed cat.
When we saw Neal for the first time in a room crowded with other families meeting each other, Neal was probably the only child not crying. When I picked him up he was very curious and took off my glasses, probably to get a better look at his new mother.
We had an exciting time in China those first two weeks. The process for the adoption process and getting to know our new son was very structured, and we had an excellent guide and translator who helped us navigate the various appointments. One of the things we experienced was Neal waking up almost every two hours. We figured that he needed to get adjusted to his new home. Little did we know!
Neal quickly gained weight, which was good. He loved bananas and chopped chicken in yams especially. Over the next few months, the poor little guy had several ear infections, pneumonia, and his tonsils and adenoids removed when we discovered he had a submucous cleft palate. But it was the seizures he had in Christmas and February that were the scariest. We felt so helpless. He was not able to walk after each one and lost some of his verbal ability but still maintained his cheery disposition. It was after the seizures were under control that the neurologist suggested that he have some comprehensive developmental observations. The geneticist thought that he could have a syndrome that would be the underlying cause of his medical and physical development issues. And in March of 2009, we entered the world of Smith Magenis Syndrome.
Since then so much has happened it is hard to tell a story that can really describe what we have gone through and who Neal really is. Neal is now 15. He is quite a social butterfly and really, really wants a girlfriend. His passion is all things Johnny Cash. He loves to watch Youtube videos of a man restoring guitars and Neal spends hours either strumming his out-of-tune guitar or taking on and off the guitar strings. He still loves his little Grumpy Cat stuffed animals but is a bit less reliant on them as he gets older. He is affectionate and very funny. He is now being homeschooled with three other boys and is doing so well with reading, writing, and math. And never has a meltdown there.
We love our son Neal. His name in Chinese means little ray of light, and he has been a ray of light in our lives. Neal knows his adoption story and he refers to it as when we "picked him up in China." He often asks other parents "Where did you meet your son/daughter?" Bringing Neal into our forever family has been a great joy.
I used to sing Neal a song: "You are my ray of sunshine, you are my brightest star, you are our dearest treasure, we love you for who you are." We love our special boy Neal and despite all the challenges, and the patience we may sorely lack at times, we are very grateful for the opportunity to have Neal in our lives.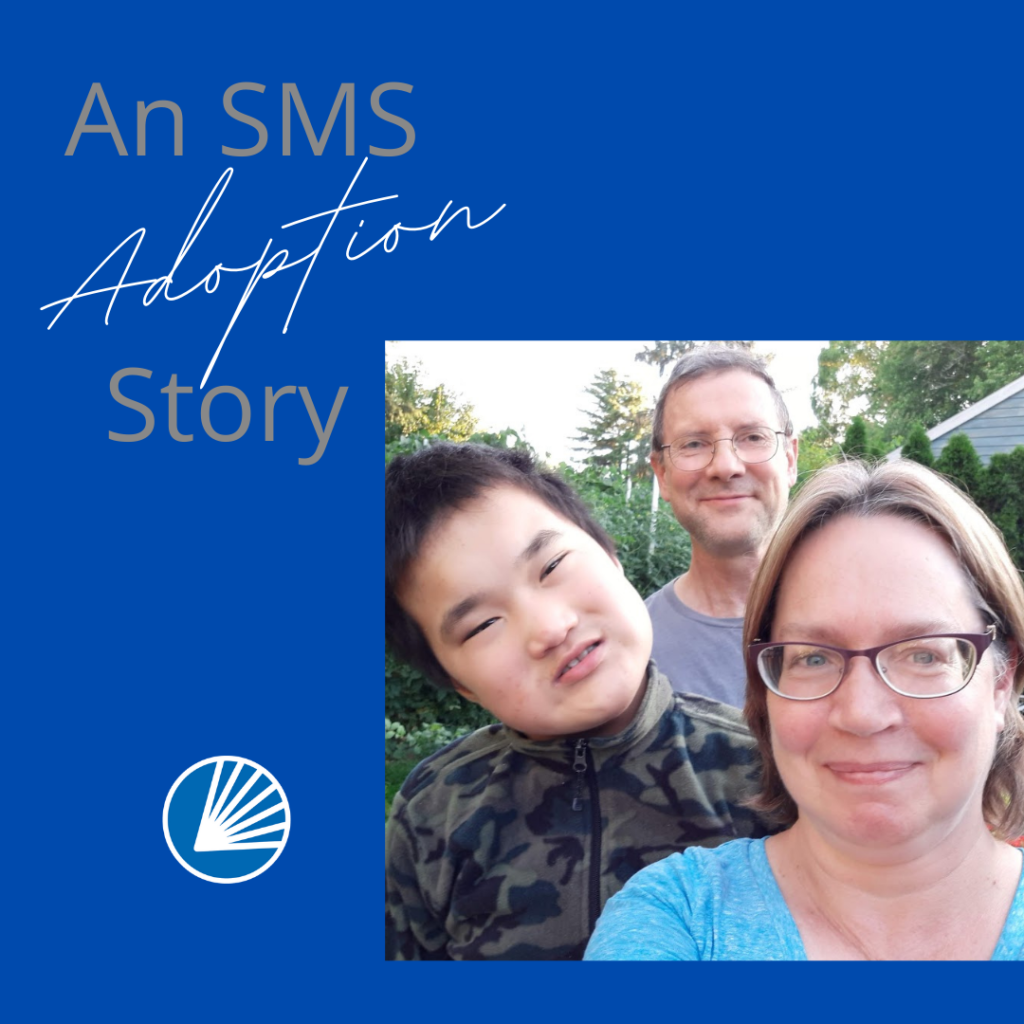 Do you have a story about SMS that you want to share with the PRISMS community? Remember, you can share your SMS story with us anytime by filling out our Share Your Story form!