Trevor Gritman, Father to Boston (8)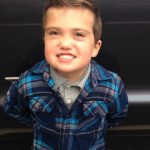 In 2010, my wife and I had our first son. We already had an amazing three-year-old daughter and then, we were getting a boy, I was beyond excited! I immediately started thinking about the cool things I was going to teach him and the fun things we were going to do together. I couldn't help dreaming about all those awesome father-son moments we would have.
But the next few months my son struggled with many medical problems, and finally at six months of age, we were given the diagnosis of SMS. My world was turned upside down. I felt that all those dreams no longer had any potential for reality. As I pondered all these depressive thoughts, one thing I noticed was that my wife was given huge amounts of support from her female friends, while I struggled to find a place to receive support. It seemed that women more easily step into the nurturing supportive roles and that men typically don't support each other that way. We tend to get uncomfortable with discussing delicate issues, especially those we can't "fix." I felt like I had to walk this road alone. Looking back, I see that it took me a long time to turn my negative feelings into positive ones without that support.
Now, here I am today more than eight years later, and I can clearly see the positive sides of SMS (yes, there really are some!). My SMS son is the funniest guy I've ever met. He makes me laugh more than anyone else, and he offers more affection and helpfulness than other kids his age. Yes, he pulls at my last nerve sometimes, but I wouldn't trade it for anything. He has made me a better person, growing both my patience and compassion. I know that if you are new to this, you will become a stronger, more patient person as well. I will always make myself available to any parent that has any questions or just wants to lean on a fellow SMS parent for support, just as parents of older SMS kids have done for me.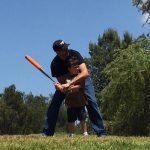 Thank you,
Trevor Gritman
Trevor Gritman serves as a PRISMS Regional Representative in CA. He is available and open to speak with families in CA as well as other fathers of individuals with SMS who are looking for support and an understanding ear. (tgritman@prisms.org)