For 30 years, PRISMS has been committed to inspiring, engaging, and supporting the SMS community.
In this time, we have seen the efforts of a few incredibly dedicated parents and medical professionals grow into a strong community of families and supporters of Smith-Magenis syndrome. During our anniversary year we want to take the opportunity to reflect on our successes, reaffirm our commitment to the entire SMS community today, and focus on the future of PRISMS and SMS.
PRISMS. With You Then. Now. Always.
Then.
PRISMS was founded in 1993 by parents Margaret and Scott Miller, and genetic counselors Brenda Finucane and Ann C.M. Smith.
The first steps in crafting the organization began at a kitchen table, with modest intentions, and the uncertainty of how they might make an impact and reach out to other families. But they, (the founders), understood that parents and professionals needed to work together in an effort to provide hope and support for families of persons diagnosed with Smith-Magenis syndrome. This partnership of four adults and a tiny baby forged what would become PRISMS, Inc.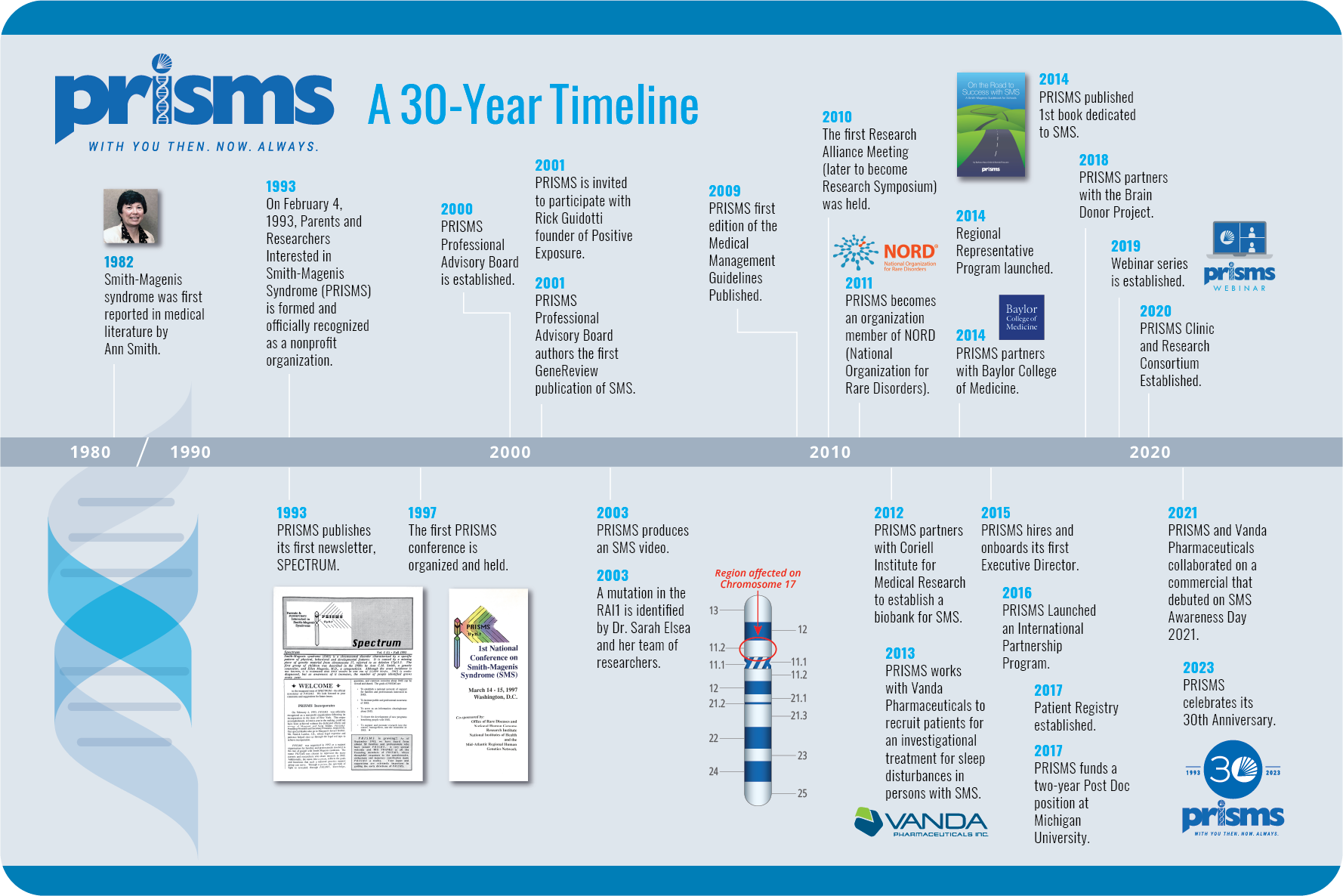 Now.
PRISMS serves as a central clearinghouse for information about Smith-Magenis Syndrome, providing a range of programs and services to enhance the lives of persons with SMS through education, awareness, and research.
To celebrate our 30th Anniversary, we'll be highlighting stories from our staff, volunteers and families about PRISMS and our SMS community. Join us all year long to learn more about our current programs and services and the families and professionals we support.
Always.
It is thanks to the support of our amazing community that we have been able to provide unparalleled opportunities to connect, resources for new families, and support for all members of the SMS community for the past 30 years.
None of this work is possible without the generosity of our donors. PRISMS does not receive funds from the government to support our rare disease community. If you are able, please consider making a donation today or share this page with friends and family to make sure that PRISMS is there for everyone who needs us in the future.