2019 10th Smith-Magenis Syndrome Research Symposium
Abstract Submission Form
In collaboration with the SMS Research Foundation, PRISMS is proud to once again host the 10th SMS Research Symposium. This event is the only event of its kind for researchers interested in Smith-Magenis Syndrome to come together and share the latest in SMS research and work collectively to continue this research and broaden the understanding of this syndrome.
Please complete the Abstract Submission form below to submit your abstract for consideration.
Abstract Submission Form
Online submission of an abstract will be available until August 1, 2019.
Time frame for submitting an abstract has ended.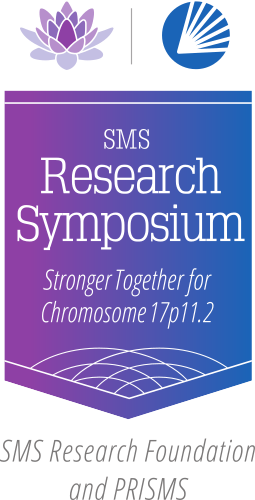 2019 10th SMS Research Symposium
September 30 – October 1, 2019
Houston Marriott Medical Center

Houston, TX
Abstract Submission Request
We invite researchers to present the very latest findings of their work on Smith-Magenis Syndrome and compare notes with colleagues from around the globe at the SMS Research Symposium. This research meeting seeks contributors who are actively participating in research related to SMS with recently published or ongoing studies with interim results.
You are invited to submit an abstract for consideration. Options include platform (15 min) and poster presentations. Any area of research will be considered, including but not limited to: diagnosis, communication, genetics, neurological development/function, behavior, cellular biology, metabolism, sleep, family dynamics, speech and language, lifespan issues, and neuroimaging, among others. The organizers will make the selection of materials for oral and poster presentations.
We highly encourage graduates students and postdoctoral researchers to attend, as this is an excellent opportunity to present your research and to interact with scientists from around the world to discuss your research on an informal basis. Scholarships are available for students attending the symposium.
Questions pertaining to abstract submission may be directed to Maggie Miller, mmiller@prisms.org.
Please review the following requirements for submitting an abstract.
Abstract requirements:
In preparation for your abstract submission, we recommend having the following information prepared:
Title (limit of 200 characters)
Authors and Affiliations (each limited to 200 characters)
Body of abstract (unformatted, limit of 2500 characters)
If your abstract is accepted to present at the symposium, then you will be required to prepare a layperson version of the abstract so that information from the research symposium can be presented to the general SMS community.