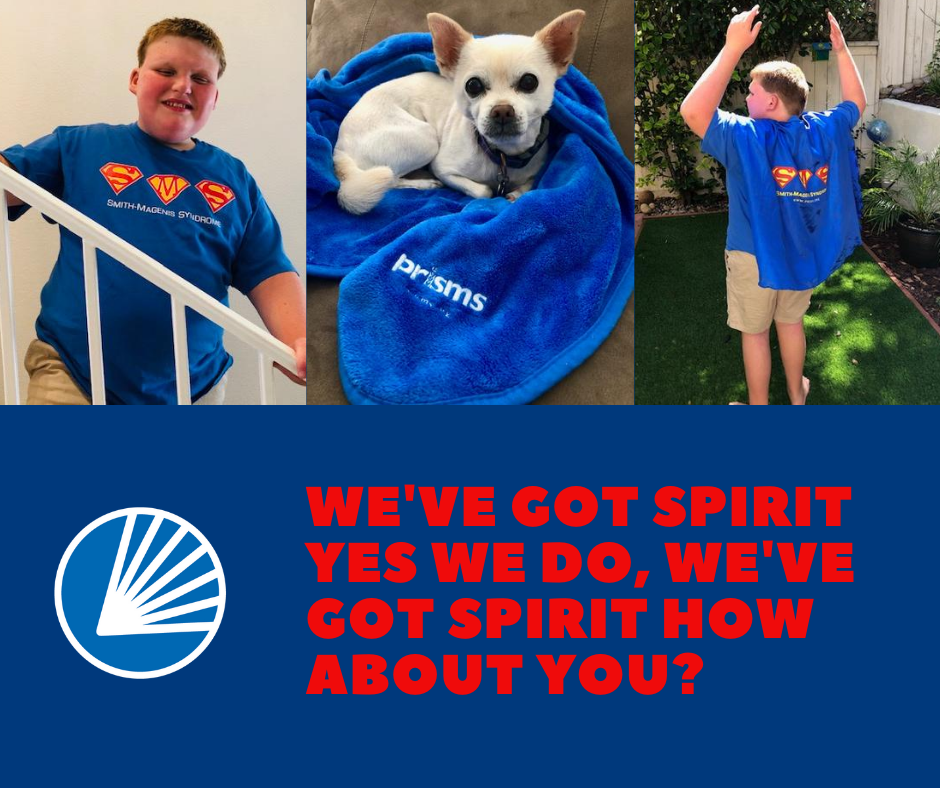 Smiles, laughs, wearing PRISMS gear, and eating ice cream all helped to ease the pain of missing out on our 11th Annual PRISMS International Conference which was postponed to 2021 due to COVID-19. 
PRISMS Board and staff orchestrated a week-long virtual celebration on social media to offer community members an opportunity to celebrate and connect virtually as well as showcase PRISMS spirit in spite of not being able to be together in Dallas, TX.
The week kicked off with a video which featured some of our PRISMS Board Members and staff preparing for the conference and then finding out it was postponed.  The video, edited by Steve Brown, the brother of PRISMS Board Member Diane Erth, was a fun way to start the week! A 2020 PRISMS Community Survey was also sent via email to gain feedback about the work being done by PRISMS to support the SMS community and what we can do better.
If you haven't filled out our community survey yet, you can do so here.
Saturday, August 1st was Spirit Day and we asked our community to wear their PRISMS gear and tag us (#PRISMSSpiritday #SMSSpirit) in their photos on social media. Participants were eligible to win PRISMS prize packs. Our first-place winner was Tabitha Petkovich, who won a $100 Amazon gift card, second place was Debbie Brooks, who won a HUG Blanket and Starbucks gift card, and third place winner Tricia Seymour won a prize pack filled with PRISMS logo items and a Starbucks gift card. It was fun to see our newsfeed filled with photos of smiling faces wearing PRISMS gear! A big thank you to all who participated.
To continue the celebration on Spirit Day, we hosted a Zoom Ice Cream Social from 3-5 EDT.  We had 45 familiar faces participate in the two-hour event.   Some familiar faces on the call were Ann Smith, one of the founding members of PRISMS/PAB Chair Emeritus, Casey Gorman, PRISMS Executive Director and many Board Members and their family members.  The Ice Cream Social received rave reviews was a sweet way to top off the week!
We look forward to a time when we can actively engage in face to face conversations with you! Make sure to save the date for our rescheduled conference: August 3-5, 2021 at the Hyatt Regency in Dallas. We can't wait to see you then!